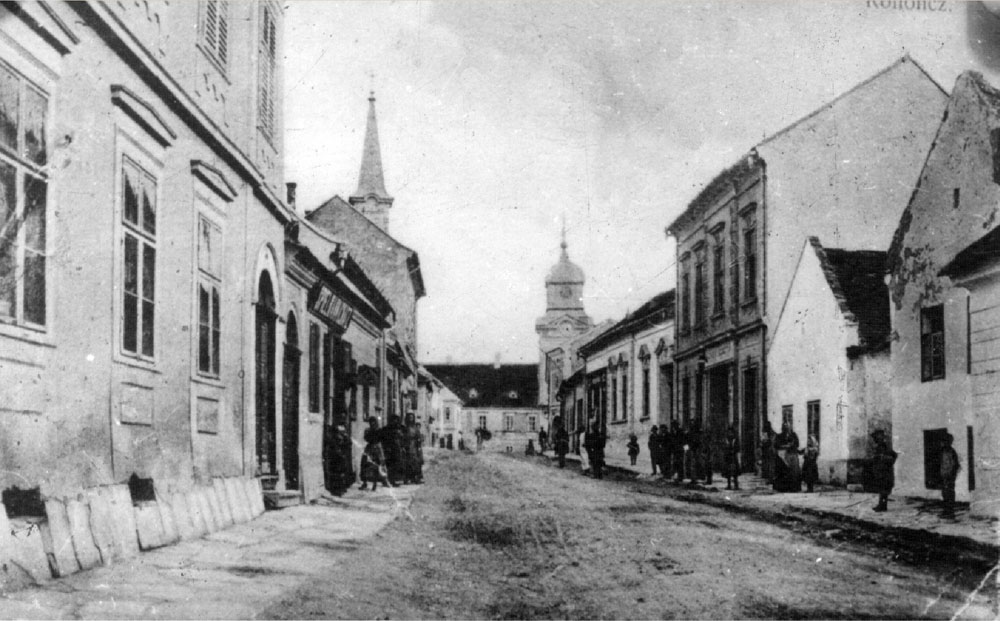 Herrengasse around 1914 (Source: Gemeindearchiv Rechnitz)
The Herrengasse (formerly Batthyány-Gasse) was the center of Jewish trade and industry. Jews in Rechnitz were predominantly merchants and craftsmen such as butchers, furriers or tailors. In the 18th century, Jews also constituted 10 % of the farmers in Rechnitz.
In 1840, Jews became allowed by law to become residents and to take up a craft or trade. The 89 Jewish stores and factories then active in Rechnitz played an essential part in the economical development of the town. One such example is Fanny Bogdánys 'First Austro-Hungarian Factory for Roux Soup à la Bogdány' in Rechnitz.
In the 1930s, two Jewish doctors had their offices in Rechnitz. At Herrengasse 16, Wilhelm Spiegel operated his store, and lived there with his family until they were expelled by the Gestapo in 1938. His son Jakob Spiegel was able to escape to Palestine. In 2011, Jakob's son Moshe came to Rechnitz with his two sons to look for traces of his family's past.